All Day Games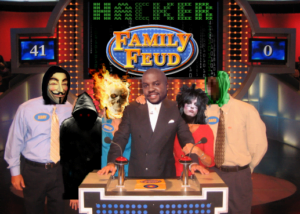 Are you ready for some mid con entertainment! . Throughout Thursday & Friday play a variety of games in the Exhibitor Hall. Hosted @lintile . Get something wrong, pay the penalty. Not for the easily offended or those without a sense of humor and a strong alcohol tolerance.
NO PICTURES OR VIDEO WILL BE ALLOWED OR TOLERATED
Forensics Challenge – CTF
Go to the contest booth and pick up details. There are sure to be things for all skill levels. Teams up to 4 allowed.
Car Hacking Village
Brought to you by CANBUSHACK team, conference attendees will get hands on experience in hacking automotive technologies. Not only will this village be openly available to the public, but there will also be a huge opportunity to learn the art of hacking vehicles. There is no formal agenda setup, rather a table with a few automotive components and benches for attendees to interact with.
OSINT CTF
We're back, baby! It's your favorite no-hacking hacking event, the Open Source INTelligence Capture The Flag, coming to you live from Grand Rapids, Michigan.
Think you have what it takes to track down real flags on real targets? That's what the OSINT CTF is all about. No hacking of social media accounts, no clever vishing campaigns, just open source deep dives into the lives of complete strangers who have graciously agreed to be our volun-targets for the contest.
Your team can sign up in person or online (here) any time before Friday morning. The contest will begin Friday morning and end with a panel discussion Friday afternoon. There might even be some candy and prizes thrown in along the way.
Hosted by CG Silvers Consulting.
Innocent Lives Foundation Art Auction
Channel your inner art collector while donating to a great cause. You know you were only going to buy booze anyway. Come get drunk on sophistication and support the ILF mission to identify anonymous child predators on Thursday at 1pm in the Exhibitor Hall. Join Innocent Lives Foundation (@InnocentOrg), Chris Roberts (@Sidragon1), and Rachel Arnold (@Th3_Human_API) as they auction some original art pieces crafted by volunteers and supporters. To learn more about the ILF, visit www.innocentlivesfoundation.org
Ham Radio License Testing Session
Description: Join us Friday and take your shot at getting a amateur radio license and become a "ham"! Exams are free for all, and you can re-take the exam if you fail initially. Study the public exam question pool online here or via other internet resources! Amateur radio has been thought of as the original hacker and/or maker community, solving problems and having fun for over a century. Joining the ham community help one understand how RF communication works, legally transmit at 1,500 watts of power, learn skills allowing for experimentation, and meeting like-minded people all around the world!
Pre-reqs and requirements: Please register HERE prior to entering the session.
Attendees are recommended (but not required) to take a study and/or take a practice test at https://ham.study/ to gauge readiness. Re-takes are permitted and free!
Date/Time: 11am-3pm on Friday Sept. 17th
Price: FREE!
Contact: testing@n8fcc.com
GrrCON Fat Ass Fun Run
Do you like Donuts? YES! Do you like running or the idea of being a runner? FUCK NO! Well as long as the answer to the first question is YES, then come join us for the First Annual Fat Ass Fun Run. We will take a short jaunt with lovely river views to a marvelous table with DONUTS!! Run, walk, stumble, whatever; we don't care. Prizes will be awarded so bring you B game. It's Free!
Friday Sept 17th at 8am meet at the registration desk to begin the shortest and slowest run of your life. The GrrCON 1k.  Multiple prizes have been donated from amazing sponsors. T-shirts, Cash prizes, and of course Doughnuts!
Battle Tech
Once again we will have multiple Battle Tech Mech Warrior pods onsite for your entertainment through lunch time-ish on Friday.
Walk ups only.
Dungeons & Dragons Village
Have you ever wanted to play D&D but haven't found anyone to play with? Have you heard of it but don't know what it's about? Well come join us for a fun introduction to the wonderful world of RPGs. This game will feature up to 6 players at a time and take you through a classic dungeon crawl.
Walk ups only. Games will restart every 60 to 90 minutes(depending on the dice rolls). There will be dice and pre-generated characters to use, you don't need to bring anything but your nerdiness.
Hope to see you there!
Lock Pick Village
You know the drill.. Pick locks.. learn to be a criminal… etc.. etc…
We typically have some new fun things for you to mess with. Like a car boot, realtor door lock box, an actual car door and the steel cage! Details on the Lock Pick Village contest will be unveiled in the village. Probably has something to do with Fuzzy pink handcuffs and an inflatable donkey-pegasus hybrid…
Prizes will also be announced at the village.
GrrCON Crypto Challenge
Click HERE to access the Crypto codes.
Simply break the string provided to reveal a final 100% discount code. If the code doesn't work you're wrong or someone beat you to it.
New codes will be added as old ones are broken.
GrrCON Drinking Game
Enjoy the free beer (& cash bar)..
Eat some free food..
Return to drinking free beer..
You're welcome.
1st place: A winner is you!
EPiC Jo
Is your name Joe, or John, or Jo Anne? Does it have a JO in it anywhere?
What else does it take to win the competition? We can't tell you that, but if you meet any of the other criteria you could just be our winner
Winning JO: Prize TBA
Student Debt Sux & door prizes
Details given out at Welcome
Winning Student: Who Knows
Locks
1337 Backup Challenge
Check your bag for a Backup tape, if you find it you win!
1st place: The l33test hacker in the world mystery prize and somebodies backup data!
You must be present at closing ceremonies to win any contest
We reserve the right change any event, competition, prize or other offering at any time.