Hacker Newlywed Game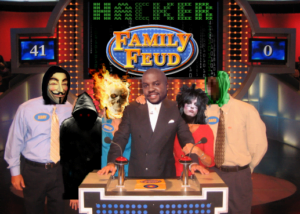 Are you ready for the 1st Annual Hacker Newlywed Game! The game is simple. During the After Party on Thursday night "couples" score points by matching answers to related questions. Get something wrong, pay the penalty. Not for the easily offended or those without a sense of humor and a strong alcohol tolerance.
NO PICTURES OR VIDEO WILL BE ALLOWED OR TOLERATED
Open Hacking Village (OHV)
The newly pronounced Open Hacking Village is completely free and available for all to attend (noob to expert). In its first year opening, the OHV will be hosting a list of environments for hackers to tinker around in. The main area's the OHV will be focusing on include, Enterprise, Automotive and IoT (More info on these below). The thought of this village is to give people a free, legal environment to learn the tricks of the trade in hacking, test exploits out in, identify new exploits, learn from others, etc. The possibilities are endless and GrrCON is happy to announce the first environment of its kind. Come check us out in the vendor area!
Enterprise Hacking Village
Ever want the chance to tinker with enterprise related networks, architectures, platforms, etc? Well the enterprise hacking village is for you! In this village there will be a simulated "enterprise" network setup for conference attendees to connect into and play around with. This environment is the old GrrCON CTF setup, so you may see something familiar, but we've also added a few more openly vulnerable systems to the network for conference attendees to play around with.
Car Hacking Village
Brought to you by CANBUSHACK team, conference attendees will get hands on experience in hacking automotive technologies. Not only will this village be openly available to the public, but there will also be a huge opportunity to learn the art of hacking vehicles. There is no formal agenda setup, rather a table with a few automotive components and benches for attendees to interact with.
IoT Hacking Village
Toasters, refrigerators, watches, shoes are all being connected to the Internet, but majority of these devices do so very insecurely. Interested in playing around with the devices people are labeling as the Internet of Things? If so, come check out this village, connect in your laptop and grab shell on that newly developed "smart" device to make it do things it's not supposed to.
Digital Silence – Pentesters CTF: Angry Monkey
Just in time for GrrCon, Digital Silence has created a unique 'Pentesters CTF' experience called 'Angry Monkey'. Not all popular Vulnerability Scanners find the goods…and that makes the scanner monkey angry! Use your l337 h4x0r skills to navigate through the 'Angry Monkey' webserver to collect flags and clues in order to help you locate the Final Flag and achieve Monkey King status. A 'choose-your-own-adventure' style CTF that is achievement based around the Linux OS and does not require Metasploit.
LocksWhat Digital Silence Provides:
————————–
10 Raspberry PI systems with CTF
Wireless network for initial entry point
Family Fun and Prizes
————————–
What the Participant Needs:
————————–
A computer system (Kali recommended)
Passionate Curiosity
Hacking Skills
OSINT CTF
Open Source INTelligence Capture The Flag Contest We're looking for a few brave hackers to meet on the DeVos Place battlefield in Grand Rapids, Michigan to discover who will be crowned the 2019 GrrCon OSINT CTF champion.

Armed with only a trusty laptop, an Ethernet connection, and their hard-earned hacking skills, contestants will dig deep into the lives of real targets to find flags and win amazing prizes. Remember, it's an open source competition, so no hacking anyone's email or Instagram, and no calling the targets. We fight with honor here.

There are a couple of twists to this year's OSINT CTF. First, it's every human for themselves. (It's like The Hunger Games, but less blood and more candy.) That's right…there are no teams. Your friends and family can come cheer you on or heckle you, depending on what kind of friends and family you have, but you must fight this battle alone.

Secondly, contestants will all play in the same room at the conference. That means spaces are limited. If you think you have what it takes, then read the full details about this year's OSINT CTF
HERE
and submit your application. Win glory! Win honor! Win prizes! And Hack. All. The. Things!
Hosted by CG Silvers Consulting.
Battle Tech
Once again we will have multiple Battle Tech Mech Warrior pods onsite for your entertainment through lunch time-ish on Friday.
Walk ups only.
Dungeons & Dragons Village
Have you ever wanted to play D&D but haven't found anyone to play with? Have you heard of it but don't know what it's about? Well come join us for a fun introduction to the wonderful world of RPGs. This game will feature up to 6 players at a time and take you through a classic dungeon crawl.
Walk ups only. Games will restart every 60 to 90 minutes(depending on the dice rolls). There will be dice and pre-generated characters to use, you don't need to bring anything but your nerdiness.
Hope to see you there!

Lock Pick Village
You know the drill.. Pick locks.. learn to be a criminal… etc.. etc…
We typically have some new fun things for you to mess with. Like a car boot, realtor door lock box, an actual car door and the steel cage! Details on the Lock Pick Village contest will be unveiled in the village. Probably has something to do with Fuzzy pink handcuffs and an inflatable donkey-pegasus hybrid…
Prizes will also be announced at the village.
After-After Party
We are proud to continue the after-after party and it's tradition of near arrests and debauchery on Saturday night.p1nk N1ghtmare Track down the short girl in the Pink GrrCON shirt for more info on the After-After Party. You don't have to beg, you don't have to be a "Rock Star", you just have to ask nicely. But be warned, she bites..
GrrCON Crypto Challenge
Click HERE to access the Crypto codes.
Simply break the string provided to reveal a final 100% discount code. If the code doesn't work you're wrong or someone beat you to it.
New codes will be added as old ones are broken.

GrrCON Drinking Game
Enjoy the free beer (& cash bar)..
Eat some free food..
Return to drinking free beer..
You're welcome.

1st place: A winner is you!

Analyst Unknown Cyber Range (AUCR)
Are you ready to play the next generation of DFIR CTF challenges? Do you think you have what it takes to detect and respond to the latest attacks that push your network and host based analysis skills to the limit. This will be the ultimate test to figure out the who, what, where, when and how of this incident. There is sure to be something for all skill levels in this challenge as you race against time and each other to solve the challenge before closing ceremonies on Friday. It doesn't matter if you do RE, IR or you're an Intel guy we have something for everyone! A Live image will be provided and also available on grrcon.e-corp.biz. Everything you need to know will be on the website which will go live at 8am Thursday morning. The only thing you need to bring is some l337 S4uc3 and get ready for a challenge that's as close as you can get to real world!
1st place: GrrCON Lifetime badge
2nd place: Hug from McGrumpie Pants
EPiC Jo
Is your name Joe, or John, or Jo Anne? Does it have a JO in it anywhere?
What else does it take to win the competition? We can't tell you that, but if you meet any of the other criteria you could just be our winner
Winning JO: Prize TBA
Student Debt Sux & door prizes
Details given out at Welcome
Winning Student: Who Knows
Locks
1337 Backup Challenge
Check your bag for a Backup tape, if you find it you win!
1st place: The l33test hacker in the world mystery prize and somebodies backup data!
You must be present at closing ceremonies to win any contest
We reserve the right change any event, competition, prize or other offering at any time.